Dogey Inu: A Community-Centric DeFi Meme Token for the Ages
Introducing Dogey-Inu (DINU), a revolutionary crypto coin forged by the passionate Shiba Inu community and its loyal members. As a dynamic, community-driven token, #DOGEYINU unites individuals from every corner of the globe, empowering them to achieve financial independence through the unifying power of memes.Dogey-Inu is more than just a cryptocurrency; it's a movement fueled by a vibrant community that thrives on positivity and the pursuit of knowledge. By emphasizing DeFi education and fostering an optimistic mindset, we aim to break the chains of the traditional 9-5 grind and enable our community members to redefine their financial destinies.Dogey-Inu has taken the internet by storm with its unique blend of humor, inspiration, and value exchange. At its core, Dogey-Inu remains committed to being a reflection of the community's aspirations and desires.Join the Dogey-Inu family, and together, let's embark on an exhilarating journey toward prosperity, camaraderie, and boundless possibilities. Embrace the memes, seize the dream!
ETH: 0xbb1EE07d6c7BAeB702949904080eb61f5D5e7732
PLS: 0x3B639D2554F9AF309fa4485Dc30820e6bA400413
Text
LOCKED LIQUIDITY
Introducing Dogey-Inu's secure locked liquidity strategy – we launched with a minimal 0.01 ETH paired against 50% of our total supply, establishing a near-zero starting valuation for ultimate growth potential.In the world of cryptocurrency, trust should never be taken for granted. Instead of relying on claims of "burned" keys or discarded seed-phrases, we believe in the power of smart contracts that enable permanent liquidity pool locking for unmatched security.The Dogey-Inu team is committed to preventing common scams seen in the small-cap token market, such as projects that build value only to withdraw all liquidity, leaving investors stranded with unsellable tokens. That's why we've locked our LP tokens for a staggering 79 years, ensuring long-term stability and peace of mind for our community.Join Dogey-Inu, and invest with confidence, knowing that our secure liquidity strategy provides a solid foundation for growth, prosperity, and the unwavering support of our dedicated community.PROOF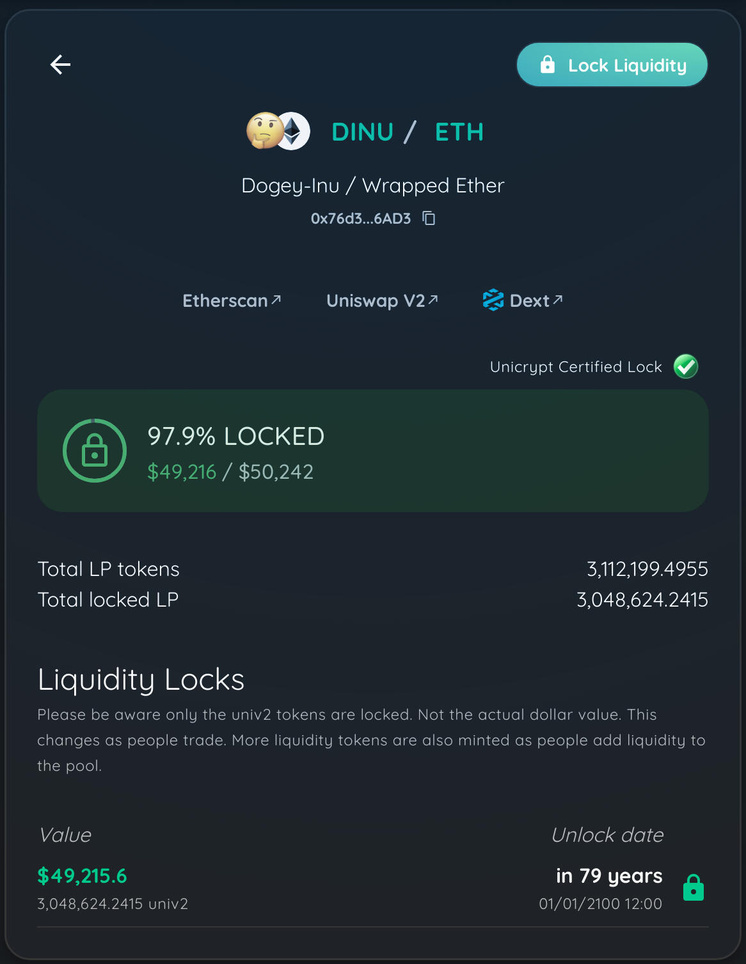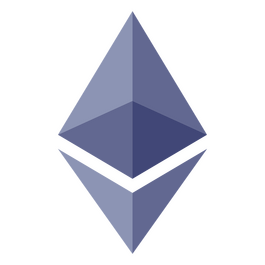 50% SUPPLY BURN
Many wonder, "Why allocate such a significant portion of Dogey-Inu's supply to Vitalik?" The answer lies in the strong connection between Ethereum's reputation and its creator, Vitalik Buterin. If Vitalik were to offload his holdings abruptly, it could cause irreparable harm to Ethereum's standing in the crypto world.By burning 60% of Dogey-Inu's total supply, we enable greater price appreciation, a larger market cap, and reduced risk of a single party orchestrating a rug-pull (excluding Vitalik, of course).On October 19, 2021, Vitalik Buterin made a positive impact by selling 10% of Dogey-Inu's supply to donate to charity, reducing his holdings to 50% of the total supply.More recently, on December 20, 2022, Vitalik sold an additional 25% of Dogey-Inu's supply, further reducing his holdings to 25% of the total supply. The proceeds from this sale were also donated to charities, garnering positive press coverage for Dogey-Inu and reflecting our dedication to philanthropy and social responsibility.In 2023, Vitalik Buterin once again decided to sell numerous meme tokens that had been sent to his address. However, this time, he opted to retain his remaining Dogey-Inu holdings. This decision highlights the potential value and unique appeal of Dogey-Inu within the broader meme token landscape.PROOF
ROADMAP
Embark with us on an exhilarating journey as Dogey-Inu charts a bold and inspiring roadmap toward success and community growth!At the heart of our mission lies the desire to cultivate a dedicated, passionate community that actively contributes to the project's evolution. As a grassroots initiative without founder tokens, we rely on the generosity and support of our community members through donations.Our core team envisions developing a state-of-the-art swap and farming dApp, tailored to meet the needs and aspirations of our ever-growing community. By prioritizing the collective voice, we will ensure that our project's trajectory aligns with the desires of those who support us.Looking ahead, we aim to introduce innovative dApps that drive growth and foster an even stronger sense of unity within the Dogey-Inu family. Together, we will propel $DINU to stratospheric heights and reach for the moon, united in purpose and passion!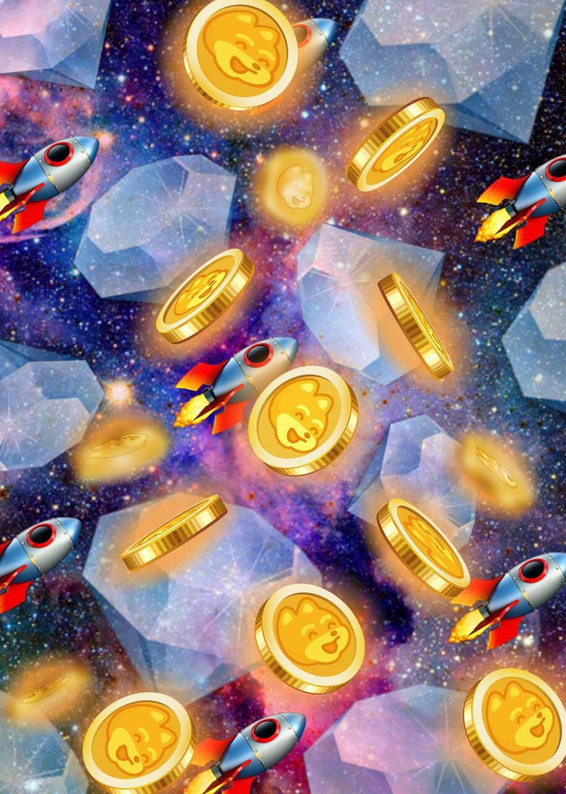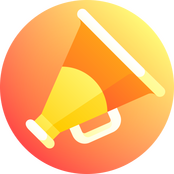 ~~Phase 1 ~~
• ~~ 1,000 Holders~~
• Website Launch
• DEX Listings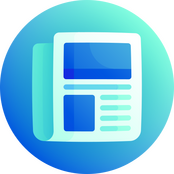 ~~Phase 2 ~~
• 2,000 Tele Members
• Marketing Fund
• Etherscan/Block Explorer info Updated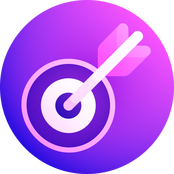 Phase 3
• Influencer Attention
• 5,000 Holders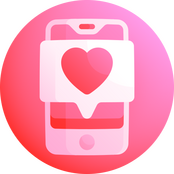 Phase 4
• CEX Listings (2)
• TBD
• 10k Holders
• Verified Lists
* Always remember - Never expect profit from the work of others *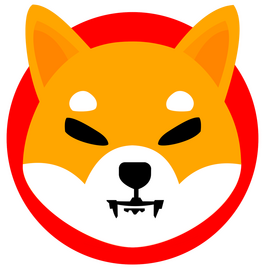 SHIBA INU AIRDROP
Early on we decided to thank and reward $SHIB Hodlers for laying the groundwork for DeFi community building. We air-dropped the top 1000 Hodlers of Shiba-Inu with anywhere from 1 billion to 50 million $DINU tokens.
This space is about growing crypto as a whole, not going to war with other projects. We were the first to do this. We will all grow together!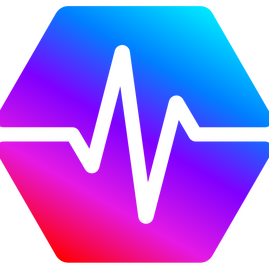 PULSE CHAIN FORK
Read about Pulse and how it will benefit small cap tokens at the links belowPULSECHAIN.COM
PULSE SWAP
LINKS
Follow These Steps

1. Install Metamask
On a desktop or mobile browser install the MetaMask wallet extension or app from MetaMask.io

2. Buy ETH
You can buy Ether on MetaMask via the Wyre or CoinSwitch buy button

3. Trade ETH for DINU
Visit Uniswap to connect your MetaMask wallet & trade your ETH for DINU. Always leave some ETH in your wallet to cover gas fees

4. Add to Metamask
Uniswap will open a pop-up, be sure to click "Add $DINU to your Metamask Wallet" so that you can see your balance. That's it!
A community member also made a quick video to help anyone with any doubts of how to buy DINU with ETH through Metamask.If you're still unsure of yourself you can always hop in telegram and ask for some help!You can also find a more detailed guide below.